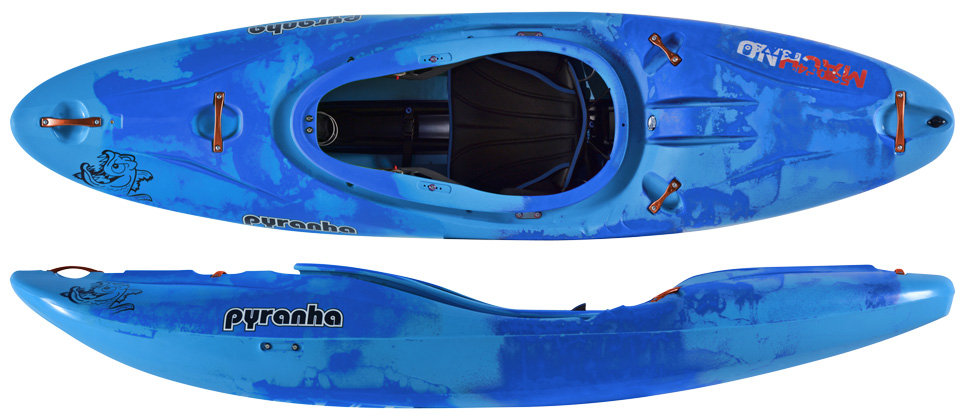 Pyranha Machno
1
--- After over 40 years of research and development, award winning designs, world-class expeditions, supporting top class boaters and expanding to become Europe's leading specialist manufacturer of canoes and kayaks, we still design and build all our boats in Britain.
---
Pyranha Machno Kayak
The Pyranha Machno kayak is designed for creeking the biggest rivers worldwide. Equipped with Pyranha's highest level outfitting, Stout 2, ensuring you are well connected and have full control over your Machno.
High Volume Design
Carefully tailored volume provides ample buoyancy through large features, with a pointed bow splitting water efficiently and a rounded stern smoothly deflecting it at the base of drops.
Balanced Rocker Profile
Extreme bow rocker lifts the kayak over features, efficiently directing water under the hull for speed, and in combination with the steep rocker in the stern facilitates almost effortless boofing.
Wave Deflectors
Another Pyranha innovation; wave deflectors generate dynamic lift through features and break surface tension acting on the kayak's bow, all whilst deflecting spray so you can remain focused
Moderate Edge
Developing smoothly from the paddler's feet to the stern, offering grip on big water and controlled carving performance, yet high enough to prevent tripping on cross currents or shallow rock slides.
Softened Side Walls
Deflects water under the hull during turning or when encountering strong cross currents, avoiding a build-up of pressure that could hinder manoeuvrability or lead to a capsize.
Wide, Curved Planing Hull 
The stable platform of a wide planing hull gives highly agile, predictable performance and features moderate curvature for soft landings, easy edge transitions and improved tracking.
Parallel Bow Handle
Bow handle orientated parallel to the kayak's centre line, maintaining a uniform deck peak and allowing a smaller recess to be used, reducing water-loading.
Action Camera Mount
An insert located just behind the bow handle provides a secure attachment point for a variety of action cameras.
Full Sized Bow Handle
A full-sized, drop-forged aluminium handle in place of the bow security point offers increased handling possibilities both on and off the water
Open Stern Handle Recess
Extended recess remains open to the stern edge for efficient drainage and comfortable access, whilst also providing a well-guarded drain bung location
Curved Deck Peak
Bow and stern decks feature a rounded peak with a lightly concaved gradient, creating positive pressure during resurfacing for stability and control, as well as facilitating easier rolling.
Stout 2 Outfitting
The Stout 2 Outfitting is built up from the elements listed below
Stout Seat
A simple, solid, and highly ergonomic padded seat with trim adjustment and height adjustment shim
The Stout 2 Hip Pads
Deep-fill, oversized hip pads that mould to your shape, with foam adjustment shims for a snug fit
Stout 2 Thigh Grips
They are padded, contoured thigh grips with fore/aft adjustment and an optional hooker upgrade
Ratchet Back Band
A padded back-band with height adjustment and ratchet adjustment support
Please note: Pillars and hull stiffeners vary between models and outfitting
Write one or two paragraphs describing your product or services. To be successful your content needs to be useful to your readers.
Start with the customer – find out what they want and give it to them.
This is a preview of the recently viewed products by the user.
Once the user has seen at least one product this snippet will be visible.
Recently viewed Products
To install this Web App in your iPhone/iPad press
and then Add to Home Screen.